Discovering the Strength of Britespan Apex Building Series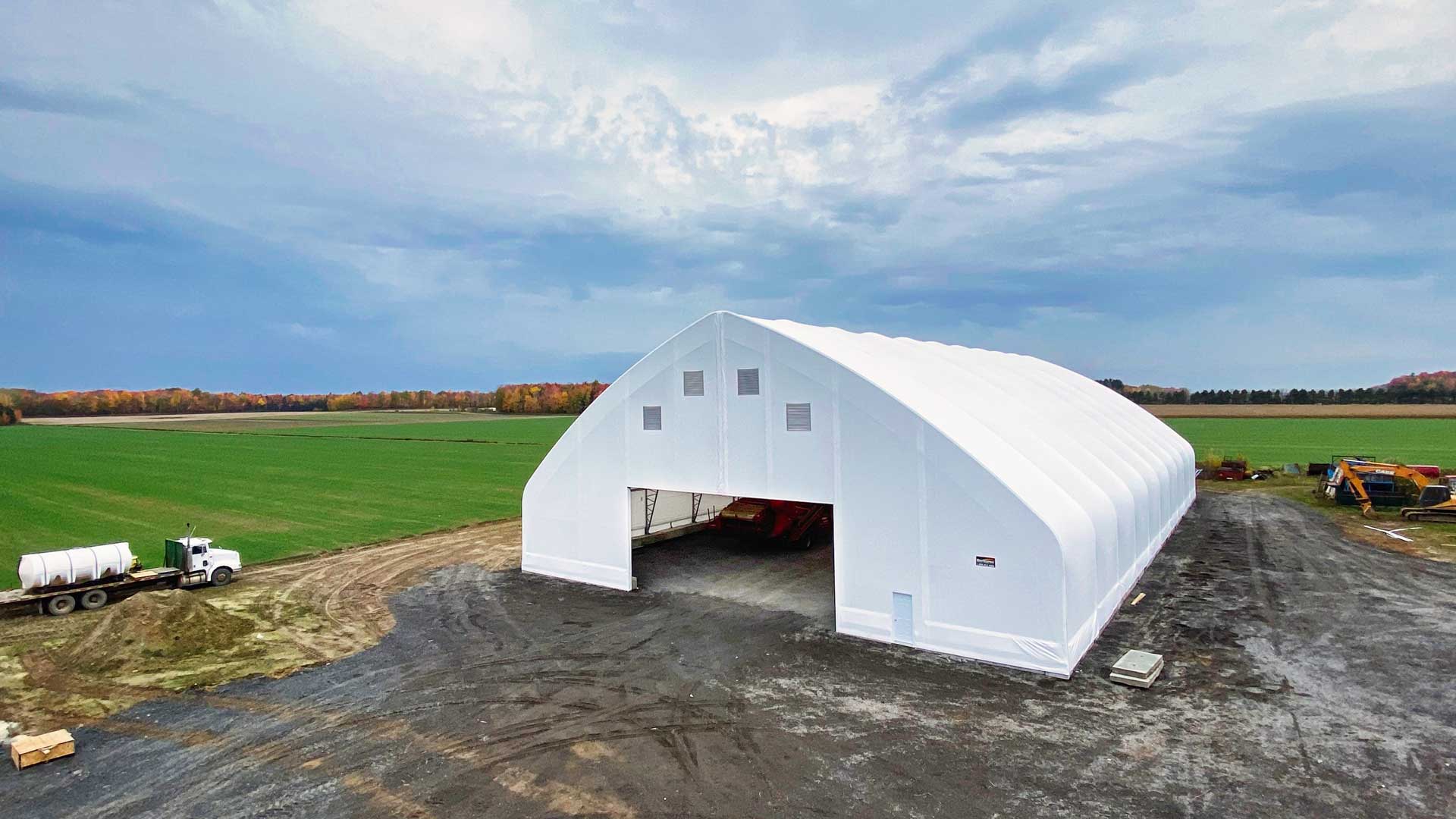 When it comes to the decision between an Arched profile VS a Gable profile, there's more to consider than just aesthetics.  The shape of your structure will have several effects that informed owners will want to know about before making decisions on purchasing a fabric building.  It is always best to begin with an inventory of what your project objectives are – what does your building need to do for you?  Matching those objectives to what the Apex Series offers can make your vetting process much easier.
Geometric Significance and Quality Attributes of the Apex Series
Understanding the impacts of the geometric shape of a building has on the total project outcome isn't difficult, but needs to be explored.   Britespan, with industry-leading vision, has seamlessly integrated essential design elements to present the Apex series. This "gable-shaped" structure first provides the traditional aesthetics that many of our customers desire.  Visibly symmetrical, this traditional shape design offers profiles that match other structures on or near the property.  The benefits don't end there – below are leading reasons why the Apex series profile buildings are selected:
The gable-shaped Apex series offers exceptional interior clearances both in the center of the structure as well as at the sidewalls where some arch profiles do not.
In regions where heavier snow or wind loads are present, the Apex series can manage higher physical climate demands while preserving maximum truss spacing than some arch profiles do.
Apex series structures can have up to 20-feet wide truss spacing – reducing foundation costs in concert with many foundation designs.
When fabric buildings have very wide spans, the Apex in many cases can provide better pricing selections than similar arch shape options.
Apex series buildings have a truss depth starting at 24" and as deep as 51" deep, and can carry additional collateral loads such as fire suppression or conveyors better than arches can in many cases.
Credentials? The Apex series comes with ISO 9001, AWS/CSA/CWB, Galvanizing Certificate of Compliance, and JIS certificate, providing proof of quality and adherence to strict global standards.
Why Choose the Apex Series?
All Britespan Buildings are engineered specifically for the site you will build it on.  The trusses receive a post-production hot dip galvanization. This gives them the ultimate armor inside and out, against the unforgiving forces of nature. Concerned about longevity? With a 20/25-year Fabric Warranty and an impressive 20-year steel warranty, the Apex is built to last.
The Apex is incredibly diverse in usage and multifunctional. It is the preferred choice for commodity storage, composting, providing shelter for beef and livestock, safekeeping heavy machinery and equipment, and even for specialized needs like salt and sand storage. Additionally, for equestrian enthusiasts, it serves as an ideal space for horse riding arenas.
If you are in search of a building solution that promises strength, reliability, and affordability, the Apex series awaits. Reach out to Britespan today and secure a building that's not just built. It is engineered to perfection. Your very own Atlas building is just a call away!
Meeting Diverse Needs with Apex Series
The Apex series is not just about structural integrity and aesthetic appeal; it's about meeting the diverse and specific needs of various industries. Whether it's agricultural, industrial, recreational, or commercial, the Apex series provides a tailored solution.
Storage for salt, sand, and general equipment
Facilities for warehousing, maintenance, and manufacturing
Spaces for recycling, waste management, and cold storage
Structures for loading docks and transfer stations
Buildings suitable for mining operations
Storage solutions for landscape and construction equipment
Retail equipment storage
Facilities for transportation, distribution, and governmental/municipal purposes
Structures for the energy, oil, and gas sectors
Barns for dairy, beef, and sheep
Barns and arenas for equine activities, including riding and exercise
Structures for livestock shelter and farm equipment storage
Facilities for general and commodity storage
Composting sites
Storage for hay, straw, and cash crops
Storage for salt, sand, and general equipment
Facilities for warehousing, maintenance, and manufacturing
Recycling and waste management structures
Cold storage buildings
Loading docks and transfer stations
Mining-related structures
Storage for landscape equipment and construction materials
Facilities for retail, transportation, and distribution
Governmental and municipal buildings
Structures for energy, oil, and gas industries
Agribusiness facilities
Automotive and aviation storage
Marina and boat storage
Break bulk facilities
Concert venues and event hospitality spaces
Fertilizer distribution centers
Fire halls and grain storage facilities
Venues for hogs, swine, and other hospitality events
Indoor golf facilities
Lumber, logging, marine, and port structures
Military buildings
Parks, recreation, and port authority facilities
River terminals and sport/recreation centers
Wastewater treatment plants
Workshops and other specialized industrial use
Environmental Considerations and Sustainability
In today's world, sustainability and environmental considerations are paramount in construction projects. The Apex series addresses these concerns by using materials and processes that minimize environmental impact. Its fabric coverings are not only durable but also recyclable, reducing waste. The hot dip galvanization process of the trusses not only extends their life but also reduces the need for frequent replacements, thereby diminishing environmental footprint.
Customization and Personalization
Understanding that no two projects are alike, Britespan offers extensive customization options for the Apex series. Clients can choose from a variety of sizes, colors, and additional features to tailor the building to their specific needs.
Conclusion
The Britespan Apex Building Series is the fusion of innovative design, durability, and versatility. It's a solution that caters to a wide range of industries and applications, offering a balance of functionality, aesthetic appeal, and environmental responsibility. By choosing the Apex series, you're not just selecting a building; you're investing in a solution that will meet and exceed your expectations for years to come.