Fabric Structure Buildings Cover Replacements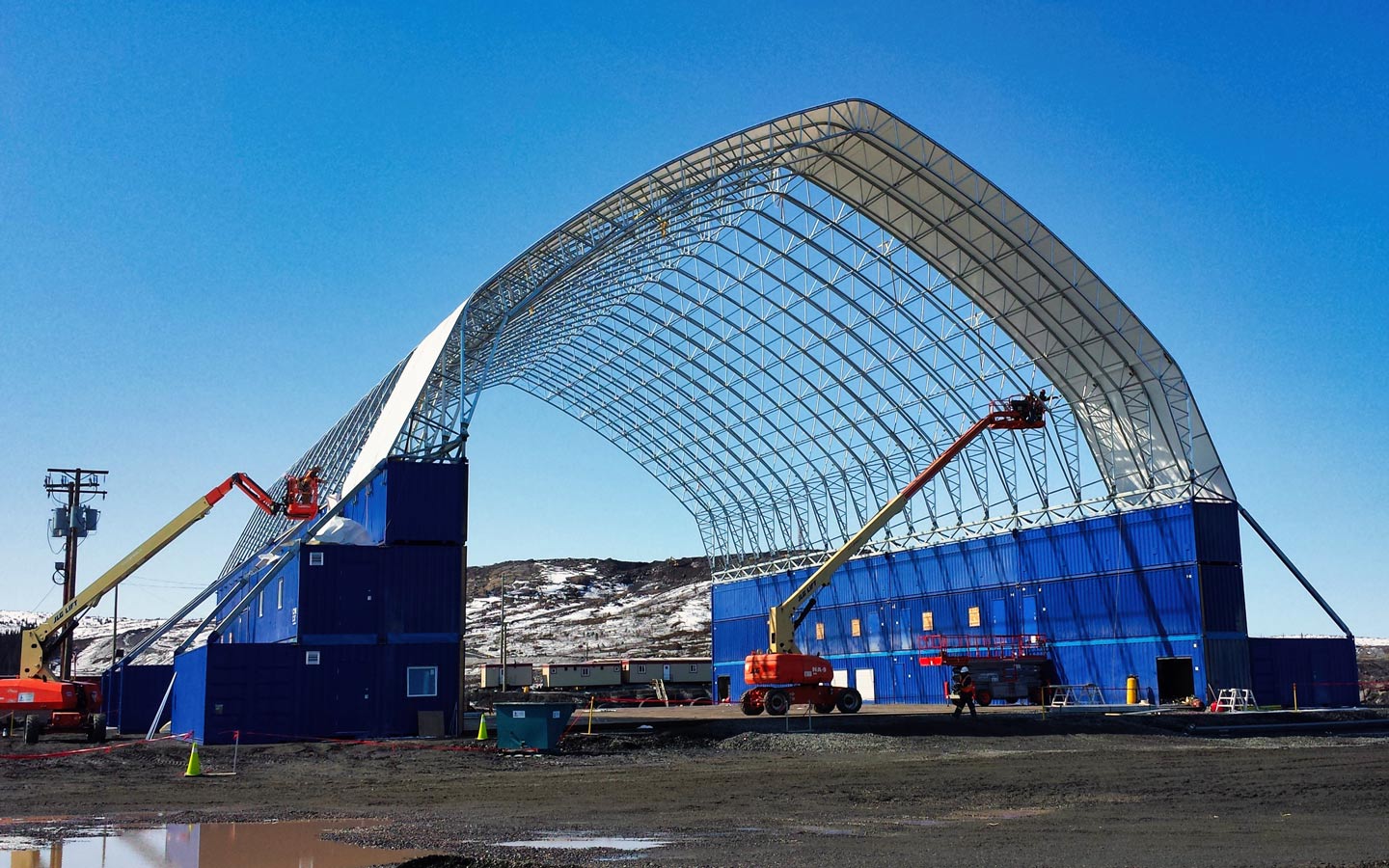 You own a fabric building and the cover is starting to look worn?  Perhaps there are a few holes or wear-points?  Not sure if it's time to replace the fabric on your tension membrane structure?  Hopefully you did not lose the cover during a wind/storm event – but if you did, there's a strategy & resource you should know!  Here's our guidance about replacement covers:
1.How long should the cover last?
This is a great question – and the answer does not fit all covers out there.  If you own a pre-engineered frame-supported tension membrane structure (fabric stretched over truss arches), you likely have one of two types of covers:
High Density Polyethylene(HDPE)
Technically identified as "high density polyethylene", this material is a polyolefin woven fabric designed specifically for structural design & performance with buildings and construction.  You might also see this type of material used as pond liners or geomembranes because of it's strength and waterproof properties.  Fabric building manufacturers will use HDPE as the structure's envelope that is anywhere from 7oz – 13.5oz weight (per Sq Yard) and can provide both Fire Rated and Non Fire Rated versions in various color options.
The following life expectancies assume that your building has been well maintained and the fabric cover has remained tensioned properly:
7oz – 10 years, 5-year warranty
12oz – 20 years, 20-year warranty
13.5oz – 25 years, 25-year warranty
Because HDPE is a polyethylene material, it has a very high level of resistance to ultraviolet radiation (sun damage).
Polyvinyl Chloride (PVC)
Technically identified as "polyvinyl chloride", this fabric material is typically much heavier weight to achieve the desired performance.  You will see weights between 18oz – 28oz (per Sq Yard) as the standard.  It is chosen for a much narrower set of project objectives – especially if the fabric envelope is not frame supported (tensile cable construction or air pressure domes).  This heavier weight comes with a much higher cost. \
The following life expectancies assume that your building has been well maintained and the fabric cover has remained tensioned properly:
18oz – 10-12 Years, 5-year warranty
22oz – 14-15 Years, 8-year warranty
28oz – up to 20 Years, 10-year warranty
Because PVC is historically adverse to heavy exposure to sunlight, project sites in high-sun prone areas may experience shorter lifespan and require replacement sooner.
2. When should I replace the aging cover?
There are some tell-tale signs that you should make a plan to have your fabric cover replaced.  The wrong timing is after the fabric has blown off during a wind or storm event.  This can damage individual truss frames or building components if the cover is lost during an intense, unplanned incident.
As your cover ages, it may begin revealing very small, pinpoints of light that resemble tiny, dim stars.  The fabric may not leak during rain events or even separate.   This telling condition might be showing signs that the membrane has been worn by natural erosion of windborne debris over the years and is reaching the end of its service life.   This sign is a valid example of wear if you see consistency throughout the cover (not in just one spot).
If your fabric membrane, that is tautly stretched across all frames, is beginning to show wear-through on all points of directional change, it may be telling you that the cover is nearing the end of it's service life.  These points of directional change may be at transition points from truss-to-leg, the attachment point of tensioning hardware, or through the entire radius of cable devices holding tension on the cover.  If the fabric is showing signs of failure throughout all of these points, it is likely that your cover is nearing end of service life.
If your fabric building has had a cover in service for 30 years, congratulations!  You've achieved exceptional longevity.  Our industry has not documented many instances that have met or exceeded this lifespan, but it is certainly possible.  The rule of thumb for a pre-planned replacement of your cover is when it reaches the end of it's warranty period.
Pre-planning your cover replacement can save you from a catastrophic loss unplanned, and can also prevent other unexpected damages from a failure and tear-off by natural events.
3. Loss of Cover During Wind/Storm Event
If you have unfortunately lost your cover from a wind/storm event, you will want to know the following:
Partially attached cover:
Fabric covers are still resilient, even if they have partially detached from the framework. When this occurs, remaining attachment points will turn your cover into a waving flag in the wind which will exert unintended and extreme stress on remaining connection points.  This will most likely cause damage to those connection points, or possibly cause truss frames to cripple and fail.  It is important that the partially attached cover is removed as soon as possible to save the frame components.  Be especially careful with the force the loose cover can apply if being affected by wind – it can exert thousands of pounds of torque that may not be apparent.  Think of a giant kite in the wind and how much force it will pull with.
4. Replacement of a Fabric Cover:
Whether you are planned or unplanned, Contact Britespan to get started.  Our expert dealer network will work with you to identify the exact size of the building, the required size of the new membrane cover, and any associated parts/components that should be considered along with it.  During the process of cover replacement, you should also consider having the entire structure evaluated for maintenance needs and it's foundation assessment.