Fabric Structure Buildings And 15 Marketplaces That Use Them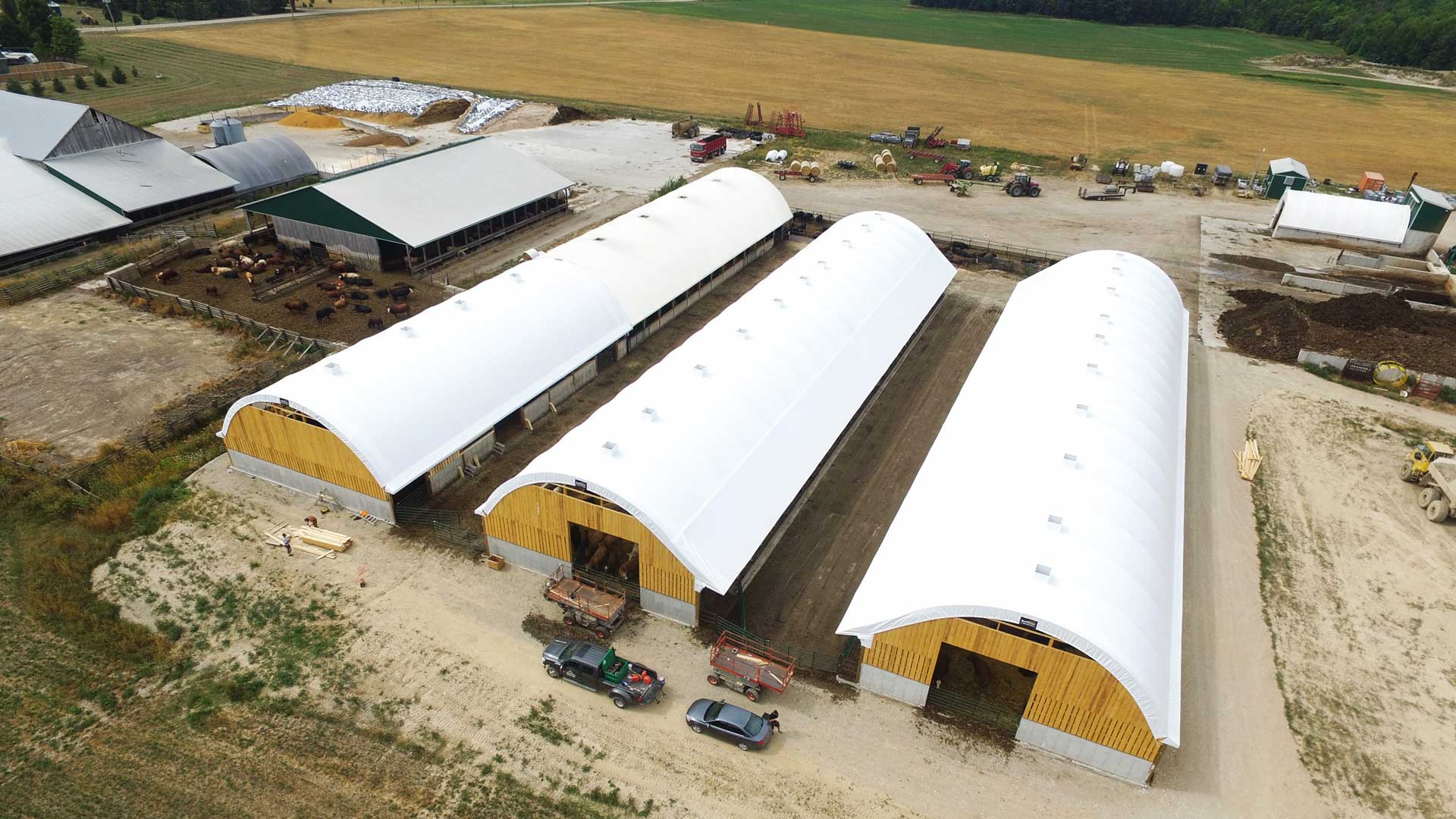 Fabric buildings are an excellent option for many industries. They're engineered, code compliant, durable, and customizable. Whether you need a large storage space or a portable building, fabric structures can meet your needs with ease. Here are some of the most common industries that use Britespan's fabric buildings.
1. Agricultural
If you're in the agriculture industry, you may be interested in using dedicated, fabric-clad, agricultural and farm buildings. Fabric buildings offered by Britespan are versatile and can be used for a variety of different agricultural applications, including:
1.1. Barns
Britepspan's barn buildings are made from structural steel truss frames and a durable, long-lasting HDPE (high density polyethylene) fabric cover. While beef barns feature an open design that promotes excellent airflow, it's important to note that achieving optimal weight gain production includes the presence of natural light inside the barn.
Fabric barn structures can be equipped with features such as peak ventilation & operating curtains to manage air flow. With the inclusion of these packages, you can enjoy perfect temperatures and a comfortable interior during the seasons, making them an excellent choice for those living in a variety of climates.
Unlike a steel roof, a fabric cover will not overheat and radiate heat into the confinement, nor are they prone to condensation from temperature swings causing "rain" inside the building. Dairy barns experience the same great increase in herd health and milk production for the same improved environmental reasons.
1.2. Compost Buildings
Compost fabric buildings are a great way to create a space for your compost. You can set them up in any location, even on uneven ground. If you have a large yard and want to be able to move your compost around easily, a fabric building is the best option for you. Britespan buildings are engineered to last decades and have a standard 20-year warranty.
1.3. Hay Storage
Britepan's hay storage buildings are a popular choice for farmers looking to store hay. The large open-air space allows for easy access to your hay bales, which is especially important when you're trying to store large quantities of round or square bales.
Fabric buildings also provide protection from the elements, which will keep your stock dry and prevent it from getting damaged by rain, snow or sun bleaching. Storing your valuable hay inventory inside of a fabric building will also prevent volume loss from wind eroding hay bales.  You can choose from a variety of styles and sizes from 24'-210' wide to any length to suit your needs.
1.4. Grain Storage
Britespan's fabric grain buildings are ideal for storing, curing and warehousing your grain crops.  Wide, column-free interiors allow for maximum air movement, circulation and natural light offering easy and safe work environments.  Clear-span and very tall, you can maximize your cubic volume of storage required with cost efficiency.  Our engineered truss frames and accommodate elevators, conveyors and transfer equipment you may need for your operation.
1.5. Temporary Structures
Temporary solutions for portable buildings to protect equipment and crops during property configuration changes are yet another beneficial use case for industrial fabric buildings from Britespan. They provide an engineered, secure place to keep your products safe and protected from the elements. As well, they are easy to move from one location to another. Fabric buildings come in a variety of sizes and styles, so you can find one that's right for your business needs.
2. Municipal & Government
Fabric buildings are often used for municipal & government purposes. They can be used to store and maintain municipal vehicles, equipment, and other items. Britespan's municipal structures provide safe, secure storage for all types of equipment in any weather condition. Other use cases for government & municipal fabric buildings include:
2.1. Road Salt Bulk Storage
With an estimated 20 million metric tons of road salt consumed by the US annually, measures to import, confine and distribute responsibly have been a focus point.  While road salt continues to be one of the most effective treatments for snowy, icy roadways, it does present a risk to drinking water reservoirs, stream systems and wildlife.
Confining bulk rock salt responsibly is best done with a fabric building for several reasons.  Road Salt needs to be housed in a structure (not under a tarp) if it is going to be completely secured from rain/snow events resulting in contaminant run-off.  A Britepan fabric building for road salt can provide the perfect capacity, clearances and accessibility all while resisting corrosion and providing a long lifespan expectancy.
2.2. Parks, Sport, and Recreation
Fabric buildings are a great choice for parks, recreation, and municipal use. They're portable or permanent, and you can use them year-round. Britespan's fabric structures can be used as a shelter for events, or to provide shade for park-goers.  The pre-engineered fabric buildings are also an excellent choice for larger sports facilities including soccer, lacrosse, pickleball, tennis, fitness centers and others.   Engineered for site-specific code compliance, these sport and recreation structures offer ample interior space & clearances along with an incredibly bright and airy atmosphere inside.
2.3. Emergency Centers
Utilizing fabric buildings for pop-up emergency centers can be used in the event of natural disasters such as hurricanes or tornadoes. Compared to traditional buildings, they're fast to set up, quick to disassemble and reassemble, and relocate if necessary. They require little maintenance which is essential when you have thousands of people coming into your area after it's been hit by a natural disaster.
2.4. Waste and Recycling
Whether it's recycling, waste transfer stations, sorting areas or composting centers, fabric buildings are an excellent choice for housing the operation.  The project may need taller clearances, or wider spans without any load bearing columns in the middle – fabric buildings can accommodate.  These waste management structures provide a safer environment to work in because of the incredible natural light that illuminates the interior of the structure.  Waste management solutions have been successfully deploying fabric structures across the United States.
2.5. Port Authorities
The global supply chain has dramatically changed commerce.  Port authorities were among the first to see this change in the supply chain activity.  Cold Storage, temperature sensitive cargo, warehousing and out-of-sun conditions are met with solutions provided by port fabric building structures.  Versatile profiles and speed of delivery/construction are usually in the top 5 objectives for these projects.
3. Commercial
Commercial fabric buildings are a great option for commercial facilities, warehouses, and distribution centers. A fabric building is customizable and flexible, making it easy to complete your project in a timely manner. Let's take a look at a few examples of how Britespan's commercial fabric structures are used in today's world.
3.1. Warehouses
Industrial fabric structures offer an innovative and column-free solution for building warehouses and other industrial facilities. They have many advantages, including their ability to be quickly assembled and dismantled, their resistance to rust, fire, and corrosion, and their resistance to the elements.
Warehouse fabric structures can be used as permanent or temporary storage facilities to house inventory and merchandise in between shipments, or they can be assembled on-site to serve as showrooms at trade shows. In addition, fabric structures can be customized with overhead doors, enabling convenient loading and unloading operations in dedicated lanes.  Cargo, inventory, bulk road salt, loose commodities, finished products and equipment are all stored securely from the outside weather in a fabric building.
3.2. Manufacturing
Fabric buildings are optimal space solutions for manufacturing facilities for everything from regular daily operations to shipping, assembly and production, and long-term construction projects. Manufacturers who use fabric buildings for their operations typically have a diverse range of needs.
Fabric building characteristics that make them ideal for industrial applications include:
The ability to be delivered and constructed quickly
A minimal impact on the environment
Less impact on foundation designs
Ability to be sized to fit a variety of uses
The ability to be reused or recycled at the end of their planned use.
3.3. Aviation
Fabric aircraft hangars are a great choice for aircraft owners and MRO facility operators who are looking to save money on hangar costs, while still maintaining the security and protection they need. Aircraft hangars, aviation facilities, and airport terminals are all types of buildings that can benefit from fabric building use. Fabric buildings are cost-efficient and can be easily customized to the needs of these sorts of projects.
3.4. Commercial Equipment Storage
Fabric buildings offer an excellent solution for commercial equipment storage needs.  They provide secure and flexible storage space for a wide range of commercial equipment, such as machinery, vehicles, and tools. The lightweight design of fabric structures allows for easy customization and adaptability to specific storage requirements. Whether you need temporary or permanent long-term storage, Britespan's fabric buildings offer fully engineered durability, protection, and convenience for efficiently managing commercial equipment.
3.5. Commercial Composting
The commercial compost industry has been growing over the past recent decades.  Businesses and communities seek sustainable solutions for managing waste and reducing environmental impacts.  Compost produced by commercial facilities must meet strict regulatory standards for quality and safety. Fabric compost buildings can meet all design criteria and local building code regulations.
Whether you're building a new facility or retrofitting an existing one, industrial fabric buildings by Britespan are versatile solutions available in various custom shapes and sizes. These durable structures can be used for any industry that requires a storage space or work area with high security and privacy needs.
Let us help you find the right fabric building for your municipality, business, farm or property! Contact us or explore our website today!