Fabric Structures – Riding Arenas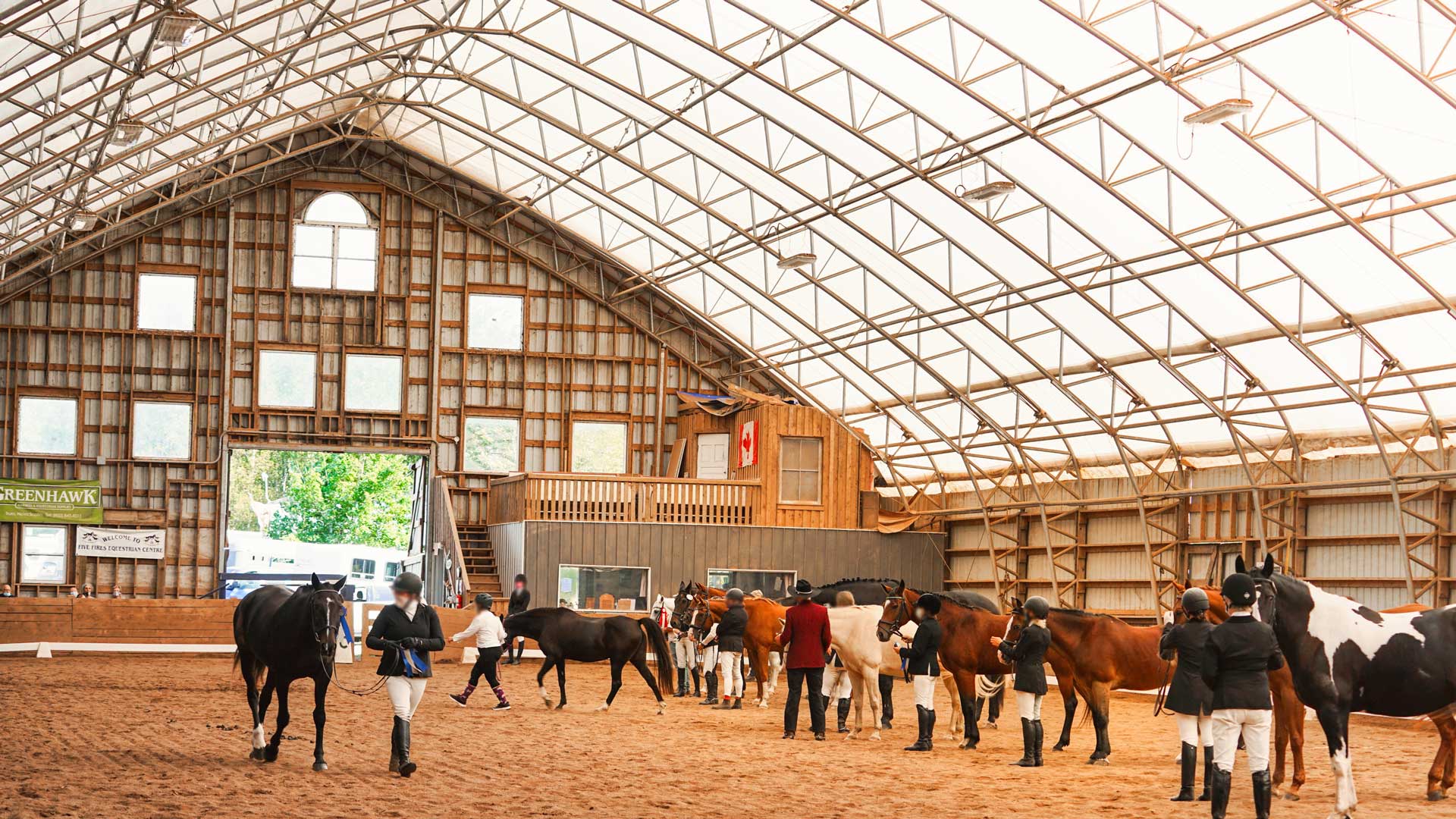 In the world of equestrianism, ensuring the health and happiness of horses is of utmost importance. One crucial aspect that contributes to horse health is the environment they are housed in. Britespan's fabric buildings, specifically designed for equine needs, have gained popularity due to their numerous benefits.
The Benefits of Fabric Structures for Horse Health and Behavior Improvement
1.   Natural Lighting
Natural lighting is essential for both horses and humans. Britespan's fabric structures use translucent fabric materials that allow ample natural light to enter the arena. This helps in maintaining a well-lit and pleasant environment for the horses, reducing stress levels and enhancing their overall mental and physical health.One customer has been quoted as saying: "my horses seem happier, and more willing to be comfortable and cooperative in here."
Also, the absence of harsh shadows in a fabric-covered riding arena reduces spooking tendencies in horses. The materials used in fabric riding arenas create a shadow-free environment. By eliminating sudden changes in light and dark areas, fabric riding arenas create a shadow-free environment that minimizes distractions and helps horses stay calm and focused during training sessions or competitions.
This also contributes to a lower ecological impact on our environment! By using natural light during the day, and the light reflecting fabric during the night, you will use less electricity than buildings constructed of other materials. Additional Bonus; cost savings! Electrical usage and install savings have been calculated into many thousands of dollars!
2.   Reduced Noise Levels
Horses are very sensitive to noise, and excessive noise levels can have detrimental effects on their well-being and attentiveness. Britespan's fabric buildings excel in addressing this concern by effectively absorbing sound and reducing noise levels, resulting in a quieter and calmer environment for the horses.
The ability of fabric structures to absorb sound is a valuable asset for horse owners and trainers. The fabric cover, with its unique membrane properties, acts as a sound barrier, preventing noise from reverberating off the walls and roof. Instead of bouncing around and causing echoes, the sound is absorbed and dampened within the structure, significantly reducing the overall noise levels.
3.   Increased Footing Space and Design Flexibility
The benefits of fabric structures by Britespan provide ample space and flexibility for various equine activities. The clear-span design eliminates the need for interior support columns, maximizing usable space and allowing for versatile usage. Horses can have sufficient room to move, exercise, and engage in natural behaviors, promoting their physical fitness and overall well-being. The open floor plan allows for the interior layout to be customized with stalls, tack rooms, viewing areas, tack rooms, and storage for equipment and feed. Whether you are practicing Dressage, Hunter / Jumper, Working Cow, Barrel racing, or just love riding horses for fun, fabric buildings can be customized to suit your specific needs.
Also there are options to have customized fabric buildings to better suit the aesthetics of your property. From different color fabrics and accents to different wall finishing options, there are endless opportunities to make them look just the way you want!
Britespan's pre-engineered buildings provide a healthy environment for horses and riders alike with natural light, reduced noise levels and increased footing space for design flexibility.
Find out if a Britespan riding arena is the right fit for you! Request a free building quote today at: https://britespanbuildings.com/get-a-quote/ 
To learn more visit: https://britespanbuildings.com/industries/agriculture/equine/