5 Types of Fabric Buildings You Should Consider for Your Project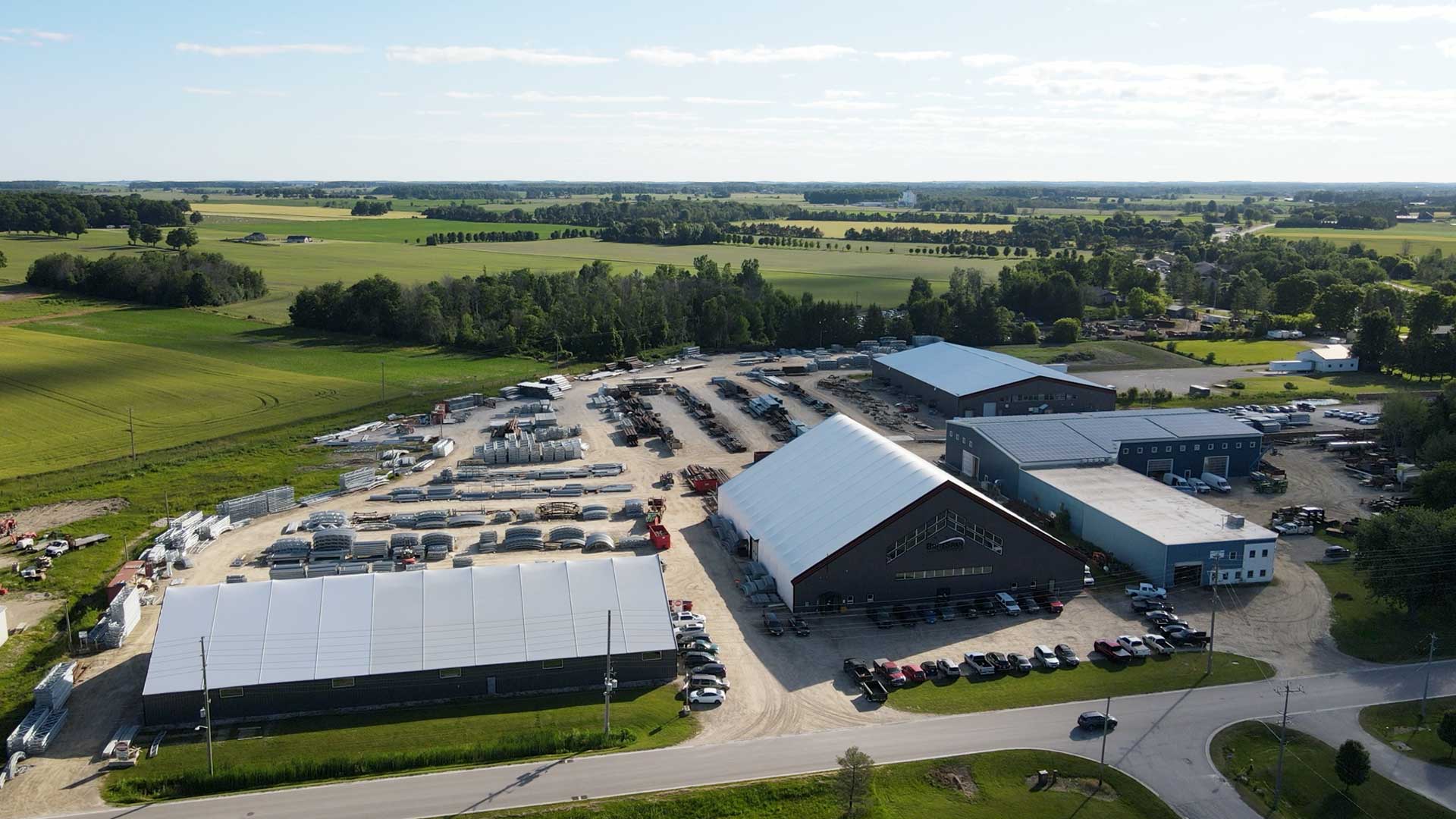 When considering the right type of fabric building for your next project, you're probably familiar with the classic hoop-style structure, a popular type among types of fabric structures, commonly found in agriculture. These types of structures are often seen in various applications, including Beef Barns, Warehouses, Greenhouses, Shelters, Commodity Storage, Salt Sheds, and Dump Stations.
This style, one of the many types of fabric covered buildings, comprises an arch, and when coupled with a webbed truss design, it can withstand significant wind and snow loads. Some arches incorporate legs to increase clearance and can span up to a hundred feet wide. The world of fabric buildings offers a diverse range of options, each of which is tailored to specific needs and applications. In this blog, we introduce you to five alternative styles of fabric buildings you should consider. Whether you're planning a workshop, a storage facility, or a shelter for your livestock, there's a type of fabric building style that's perfect for your needs.
1. Container Buildings
Container buildings, a unique type of fabric building, have become more common in North America with the surge in consumer goods imported from Asia. Due to the wear and tear and the cost of returning empty containers to their country of origin, many containers are retired at their destination. This surplus creates an opportunity for a unique and economical foundation by repurposing them as types of fabric covered buildings.
Imagine connecting two shipping containers to craft the perfect workshop or shelter! Britespan, familiar with various types of structures, has designed a kit that includes welded container mounts that attach to a truss system. These are field-welded either inside or outside the container and then covered with durable fabric. Britespan manufactures this container-building kit aiming for a swift four-week lead time. They use a standardized approach focused on maintaining uniform components and 13'3" spacing between trusses, ensuring a smooth and efficient installation on a standard 40' container. Moreover, there are three different end-wall variations available to suit your specific needs.
2. Apex Line
The Apex Line Structures, a distinguished type among types of fabric structures, combine the quick installation of Britespan's traditional hoop-style Atlas line with an aesthetically appealing Gable-style truss system. This style can extend up to 100' wide before additional customization is required. It often boasts a higher snow load capacity and wider truss spacing, making mounting on concrete piers more affordable compared to the arch-style Atlas, another type of fabric covered building. The Apex is ideal as a riding arena or equine boarding facility on farms.
3. Magnum Series
When planning a storage facility for materials such as salt, sand, or compost, factors like easy unloading, protection from accidents, high snow load capacity, and the ability to keep materials in a bunker for corrosion prevention are crucial. The Magnum series, representing a unique type of fabric building, fulfills all these needs with impressive features, including a 30-foot tall dumping window, 20-foot on-center truss spacing, and a capacity to withstand up to 143 lbs of snow load. This makes it the go-to solution for municipalities looking for a sturdy salt storage facility.
4. Easy Access
As the name suggests, Easy Access Structures provides a Tension Membrane fabric building, another member of the types of fabric structures, that facilitates equipment and vehicle storage with bays spaced up to 16 feet apart. While this might seem simple, an open building can face substantial uplift, necessitating specialized engineering measures to ensure resilience against high snow and wind loads. With Easy Access, parking hassles become a thing of the past.
5. PL Series
The Britespan PL Series, resembling traditional hoop-style arches and adding to the types of fabric covered buildings, is perfect if you're looking to install a shelter for your goats. Instead of mounting the frame on treated posts or a wooden pony wall – which might not be durable, especially with the recent surge in lumber prices – this series comes with I-Beam posts that are pre-drilled for strapping, allowing the installation of a metal-clad wall. Developed in collaboration with seasoned dealers familiar with various types of structures, it addresses the need to replace aging wooden posts in older structures, ensuring longevity and a variety of foundation choices.
Armed with knowledge about these five fabric-building profiles, you're better prepared to make an informed decision for your project. Each style presents unique fabric building advantages and purposes, so don't hesitate to reach out to Britespan. Our experts and professional dealers are on hand to discuss your specific project requirements, factoring in size, space, climate, and budget, and guide you in designing a building compliant with local regulations and building codes. The construction industry is evolving, and Britespan leads the way, dedicated to offering versatile and cost-efficient tension membrane buildings, each representing unique types of fabric structures, for your upcoming projects.
Reach out to the Britespan specialists today to discover various fabric building solutions that can realize your vision.