The Ultimate Hay Storage Buyer's Guide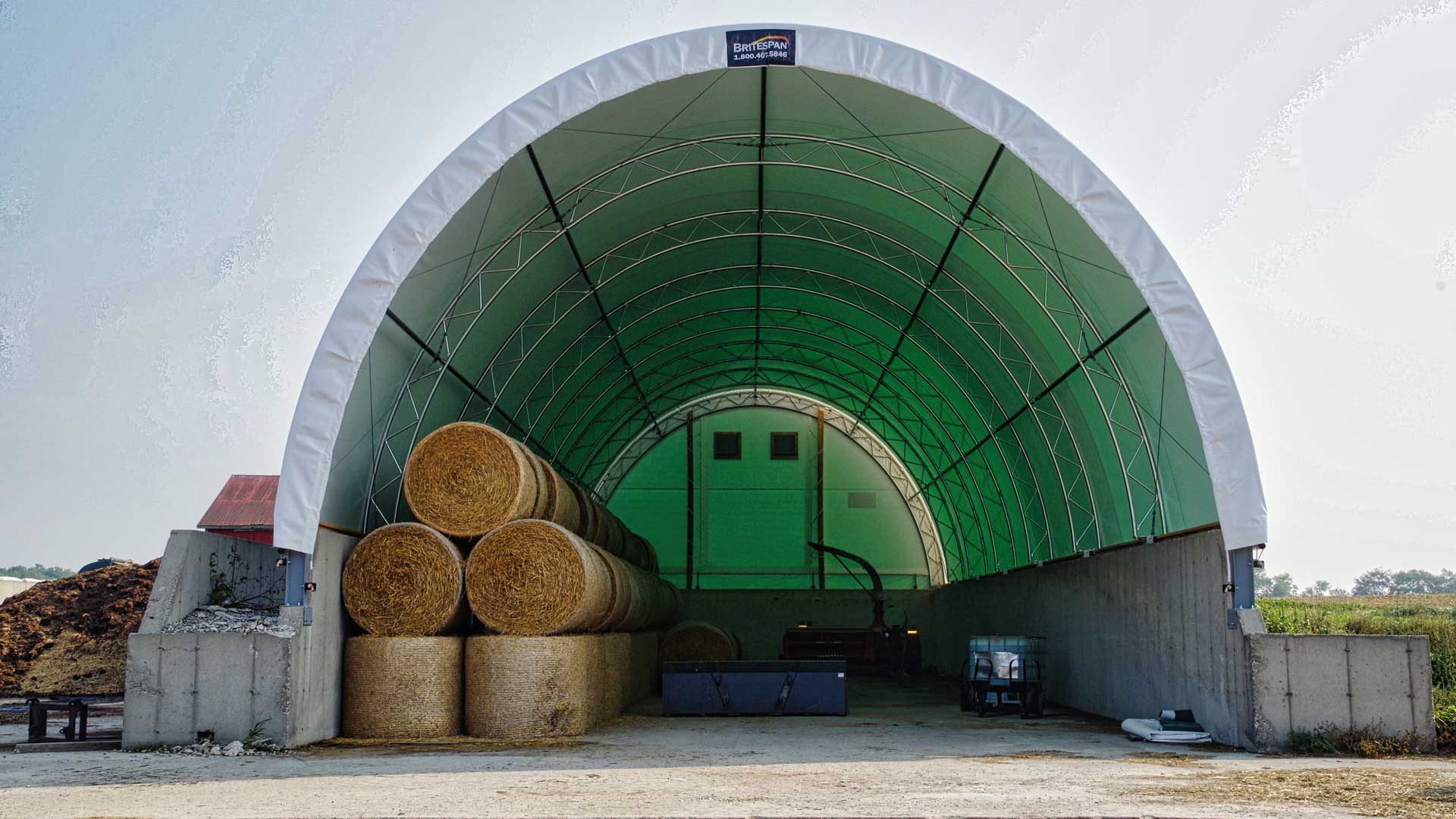 When it comes to storing hay, it's important to keep your animals' needs top of mind. Hay storage can be a complex operation that requires a lot of space and equipment. This guide explores efficient hay storage methods to prevent spoilage and damage. Whether for personal use or wholesale, these tips ensure your investment lasts.
Determine The Hay Quantity Before Storage
Before considering hay storage, determine the amount of hay you need. Calculate it based on your farm's requirements. If you are using it for animal feed, you'll need a large quantity of hay. A typical horse will eat between 1 and 2% of its body weight in dry matter per day.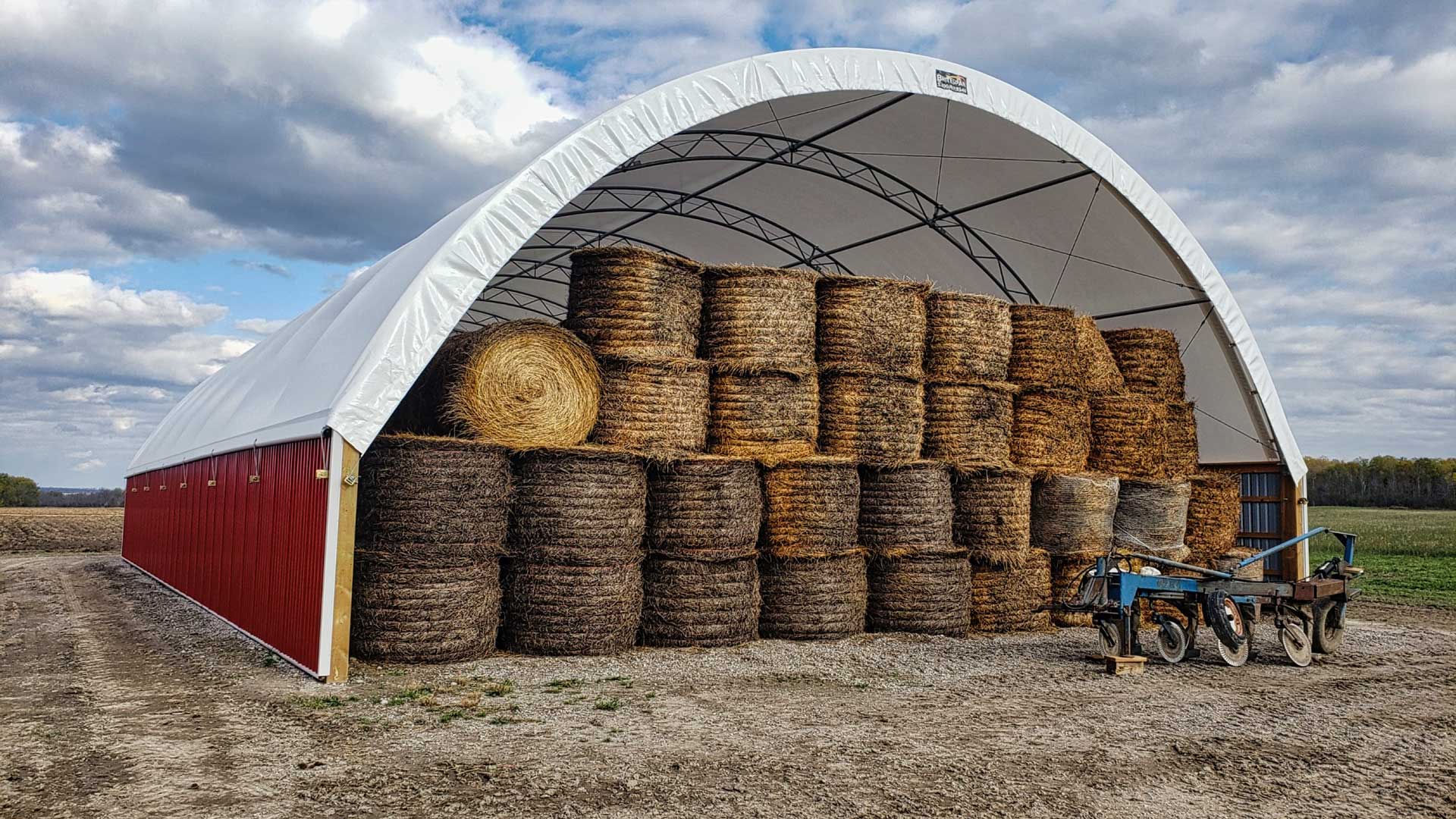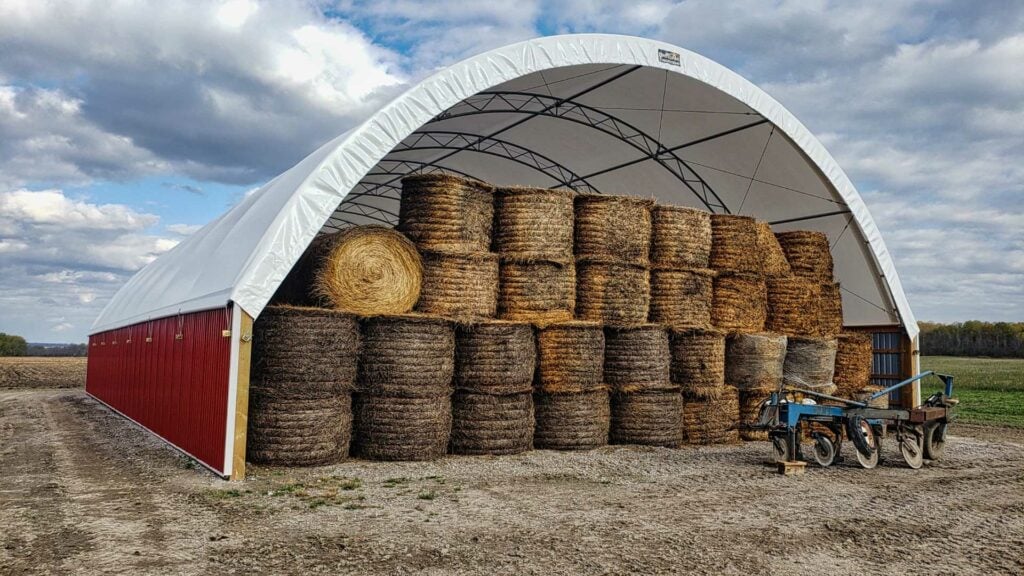 Store the hay in dry, safe places like agricultural fabric buildings to prevent spoilage.
Learn About Hay Storage Options
Proper hay storage is essential to prevent moisture and mould growth, which can deteriorate hay quality and harm your animals. Fabric hay storage is important to keep hay dry, especially if you're storing it outside. If you live in a humid climate or have a lot of rainfall, then this is especially critical.
Hay can spoil quickly when exposed to humidity and moisture, so you must store it properly if you want to make sure it lasts longer than just one season before needing replacement again next year!
To store properly, you'll need:
A hay storage building or container (this can be either permanent or temporary). This will keep out pests such as mice while also protecting against rain and snow. If using a container, ensure it has proper drainage for heavy rainfall. Note that not all containers can hold large quantities of bales; some may accommodate only about 10 bales depending on size.
Lots of room inside said structure/container so there's plenty of space between each layer stacked within.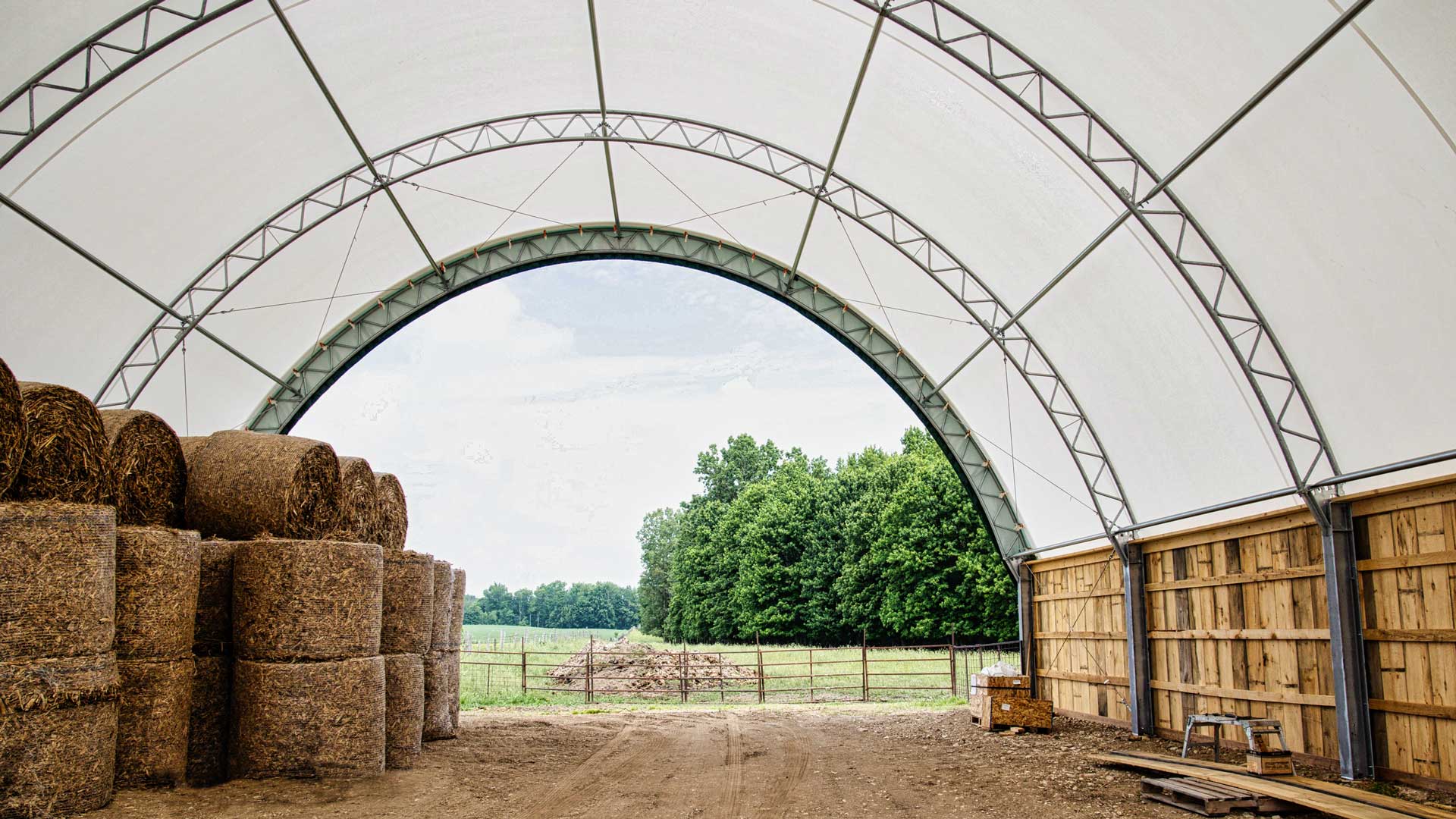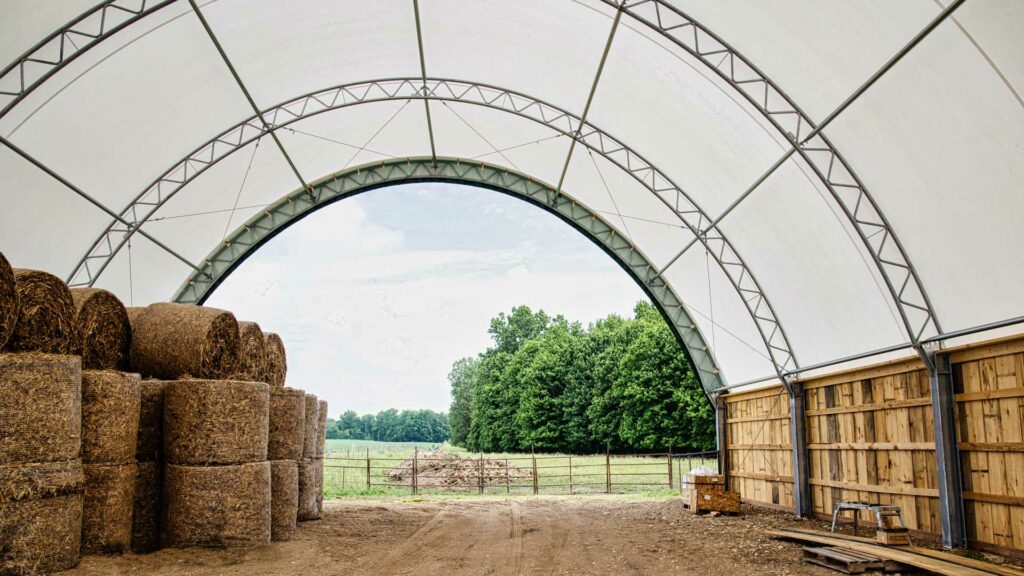 How to Retain the Quality of Your Hay
When it comes to buying hay storage, there are several factors to consider to ensure that you choose the best option for your needs. Here is a comprehensive buyer's guide to help you make an informed decision.
Type of hay storage: There are several types of hay storage available including barns, sheds, hoop buildings, and stack covers. Consider the amount of hay you need to store, the weather in your area, and the level of protection required to determine the best type of storage for you. Britepan's fabric buildings are ideal for hay storage as they have column-free interiors to allow you to store and maneuver hay bales with ease.
Size of hay storage: Determine how much hay you will need to store and choose a storage option that will accommodate that amount. Working with your local Britespan dealer, they will be able to help you determine what size of the building will best suit your hay storage needs based on the size of the bales and stacking height. Britespan's fabric buildings range from 24'-210' wide to any length and are available in a variety of building styles.
Ventilation: Proper ventilation is essential for hay storage as it helps to prevent mould and mildew growth. Ensure that your hay storage has adequate ventilation options such as vents, fans, or windows. Britespan's fabric buildings can be customized with mesh vents on the end-wall, chimneys and side ventilation to help increase airflow to reduce moisture build-up.
Durability: Look for hay storage options that are built to last and can withstand the weather conditions in your area. This is particularly important if you live in an area that experiences extreme weather conditions such as high winds, heavy snow, or frequent rain. The pre-engineered buildings made by Britespan are engineered specifically for your site location and weather loads.
Ease of use: Choose a hay storage option that is easy to use and allows you to access your hay quickly and efficiently. Consider options such as doors, ramps, and easy-to-use latches. Britespan's free-span buildings are easily customizable to allow you to maximize interior storage space.
Cost: Determine your budget and choose a hay storage option that is within your price range. Keep in mind that while cheaper options may be tempting, they may not provide the level of protection or durability that you require.
If you're interested in a Britespan fabric building, we recommend getting a detailed quote from your dealer that will be tailored to your specific building needs. To learn about the financing options available, click here.
Maintenance: Consider the level of maintenance required for your hay storage option. Some options may require more upkeep than others, so be sure to factor this into your decision-making process.
Pre-engineered buildings from Britespan require low overall maintenance management. The premium woven polyethylene fabric is fully tensioned over our steel structural trusses. The fabric material is UV protected, and our steel trusses are hot dip galvanized after all welding and fabrication are complete to maximize the lifespan.

Customization: Depending on your needs, you may require a custom hay storage solution. Look for options that offer customization and can be tailored to your specific requirements.
Britespan buildings can be customized in a variety of ways with lots of fabric building accessories, from the foundation, fabric type, side openings, doors, and more.
Easy Access: When storing hay, it is important to consider a hay storage option that allows your hay to be easily accessible. Having a proper hay storage building eliminates the challenges and time associated with wrapping bales and digging hay bales out during inclement weather. With a Britespan hay storage building, it allows you to have hay bales easily accessible twelve months of the year which helps increase operating efficiency on the farm.
Retaining the Quality of the Hay: Consider a hay storage option that allows you to reduce bleaching from the sun and keeps the hay dry. When stored inside a Britespan hay storage building, hay has less exposure to sun bleaching, retains its nutrients, and keeps dry. All of these factors allow the hay to retain its quality and have higher profit margins.
By considering these factors, you can choose the best hay storage option for your needs and ensure that your hay remains in good condition for as long as possible.
The Britespan team will work with you to understand your hay storage needs for your farm and bring your building from concept to completion. Contact us today to request a free building quote or give us a call at 1-800-407-5846
To learn more about Britespan's hay storage building options, check out our website.